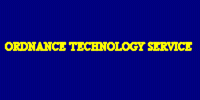 Ordnance Technology Service (OTS) specializes in underwater systems. It provides component part support for torpedoes, torpedo launch systems, torpedo handling equipment, unmanned underwater vehicles (UUV) and underwater targets.
OTS supports all products related to the launch, handling, or maintenance of the MK46 torpedo as well as numerous components on the MK44, MK37, MK48 and ADCAP torpedoes.
As a highly focused company, OTS delivers the following value to its customers:
Cost Effective Production based on low overhead costs and use of original equipment manufacturing sources,
Timely delivery: based on knowledge of Original Equipment Manufacturing sources and development of a spare part production network,
Excellent Quality. Components are new, and procured, manufactured and tested to current drawings and specifications, and
Cost effective torpedo component upgrades.
OTS is certified for the handling of Military Critical Technical Data and is registered with the Department of State (ITAR).

OTS is located in Mentor, Ohio. Northeast Ohio has a 30-year history of involvement in the design, development, production and support of torpedoes for the U.S. Navy and international Governments.

Kaycom is the exclusive Canadian representative for Ordnance Technology.

Kaycom Inc.

193 Brunswick Blvd., Pointe-Claire, Quebec, Canada, H9R 5N2

Phone: 514-693-0001 Fax: 514-693-0011

info@kaycom.com

<! content -->